light/WAVES
This is a tree of transforming light inspired by the tropical climate in Southern Florida.
Waves crash on the shore and slow to a gentle pulse. Raindrops build swiftly to an afternoon thunderstorm. Sunlight through the clouds reflects off the water. A flood engulfs the tree and recedes into pools. Lightning flashes through a darkening storm that suddenly breaks in the calm and radiance of a rainbow. The oak is both vulnerable and sustained by water. It pulls it up through its roots and into its branches like rivers of light.
Artist Bio
Heather Carson
Heather Carson is an LA-based Sculptor and Installation artist considered a second-generation Light and Space Artist. She began her career designing lighting primarily in downtown New York theatre and then Internationally for avant-garde opera designing over 200 productions spanning 45 years in theatre, opera, dance, concert, and video. Named one of the great, idiosyncratic talents by Entertainment Design Magazine, highlights include 23 years with Richard Foreman; 15 years with Elizabeth Streb Ringside and an 8 play History Cycle for the Royal Shakespeare Company in Stratford-upon-Avon and the West End which was named "Production of the Decade" by The Guardian and for which she received the 2008 Falstaff Award. Theatre work includes The Public Theatre, Drama Dept., The Kitchen, NY Theatre Workshop, P.S. 122 in New York; Cambridge Theatre Co, UK; Camera Theatre, Israel; Citizen's Theatre, Glasgow; Edinburgh Festival; Gate Theatre and Lyric Hammersmith, London. Opera work includes Opéra Comique, Choregies d'Orange, Opera de Lille, La Monnaie, Opera Australia, Royal Danish Opera, Grand Théâtre de Genève, English National Opera, Maggio Musicale, The Israeli Opera, Scottish Opera, Welsh National Opera, Long Beach Opera, New York City Opera, Portland Opera, San Francisco Opera and Seattle Opera. She was head of the lighting programs at Penn State and Cal Arts and has taught at NYU, Sci-Arc, UCSD, UCLA, CSULB and USC.
Her solo museum exhibition Light Sculpted was seen at the Boise Art Museum in 2018 and she's had four solo exhibitions at Ace Gallery, Los Angeles. Her work has been seen in numerous group exhibitions including the Denver Art Museum; Torrance Art Museum, Los Angeles Municipal Art Gallery; The Armory Show, and The American Academy in Rome. Grants include the City of Los Angeles (COLA) grant, The Rome Prize, two NY Foundation for the Arts Artists Fellowships, and the Skowhegan Art Program Fellowship. Her work is in the permanent collection of the Denver Art Museum, the Asheville Art Museum as well as numerous private collections. She was included in the book Lust for Light which celebrates artists who use light as a primary or catalyzing agent and in the recent catalogue Josef Albers: Homage to the Square: 1950-1976 in the essay entitled The Life and Afterlife of the Homage to the Square highlighting select artists inspired by Josef Albers.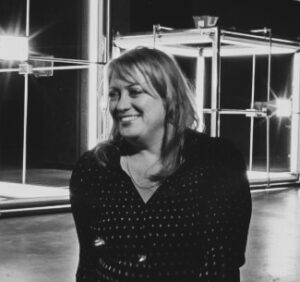 Address & Map
light/WAVES
8390 NW 53rd St
Doral , FL 33166